A highly motivated team stands behind wirkt. Lisa-Maria Sommer-Fein, Julian Richter, and Nina Poxleitner are all serial social entrepreneurs who know how to turn ideas into reality. As a trio of experienced founders, they have already built up four social business ideas over the last six years and successfully handed them over to implementation teams.
This initial trio has now grown to a team of 15 social reformers, who make an impact every day. Together, we create new perspectives for the world of tomorrow. We enjoy working together and look forward to new challenges and the many small and large moments of success at wirkt.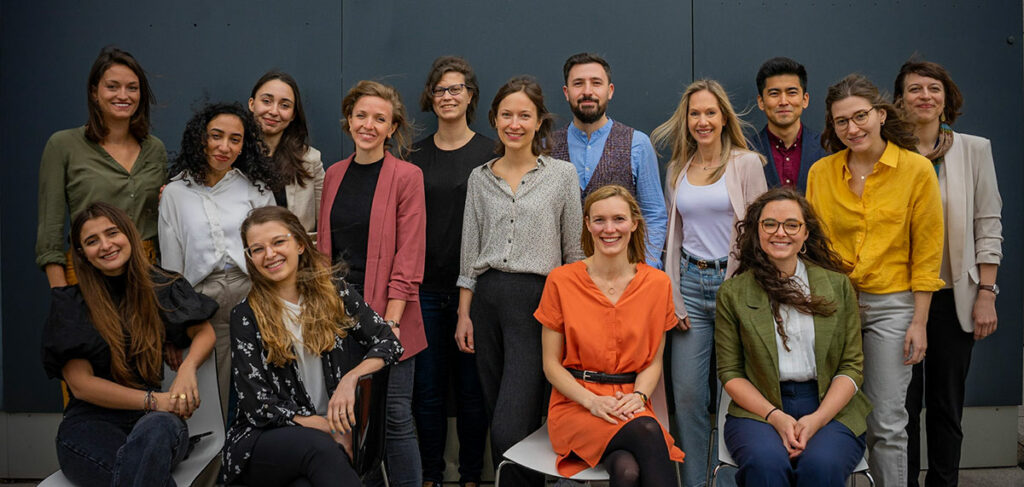 Working together at wirkt.
wirkt. that's us: a colorful bunch of social reformers and a portfolio of Impact Ventures.
All wirkt. Ventures are committed to supporting equal opportunities and work together for a better tomorrow. We are a team of 15 people – no longer really small, but not huge either. It is an exciting time of development for us as an organization. On the one hand, we can work creatively and try out new ideas quickly and easily; on the other hand, we already have processes and structures in place that help us work.
One goal we have set for ourselves at wirkt. is to operate with few hierarchical structures. Since we have breaken away from traditional organizational structures, each individual is responsible for his or her own work. It is also important for us to have clearly defined roles and responsibilities. Our activities are not chaotic—far from it—but different from what we often know from other companies.
At wirkt. we work
at eye level with each other — 
within the company and with everyone
who works with us.
The everyday working life at wirkt.
Since the end of 2019, we have also implemented a four-day work week. We spread our working hours from Monday to Thursday but maintain the same salary. As simple as that sounds, the change was not so easy for us at the beginning. We are used to measuring our work in hours. Setting ourselves realistic goals, knowing when we have accomplished enough for a week and enjoying Fridays for ourselves without feeling guilty were interesting changes for us.
Read more about this and get further insight into our daily work on our blog.